Oil staged a massive comeback after falling to new lows in April.
US Oil had best quarter since the 1990 Gulf War.
Covid-19 surge and upcoming US elections likely to foster volatility
Ichimoku Cloud Tells A Bullish Story and Shows Key Support Levels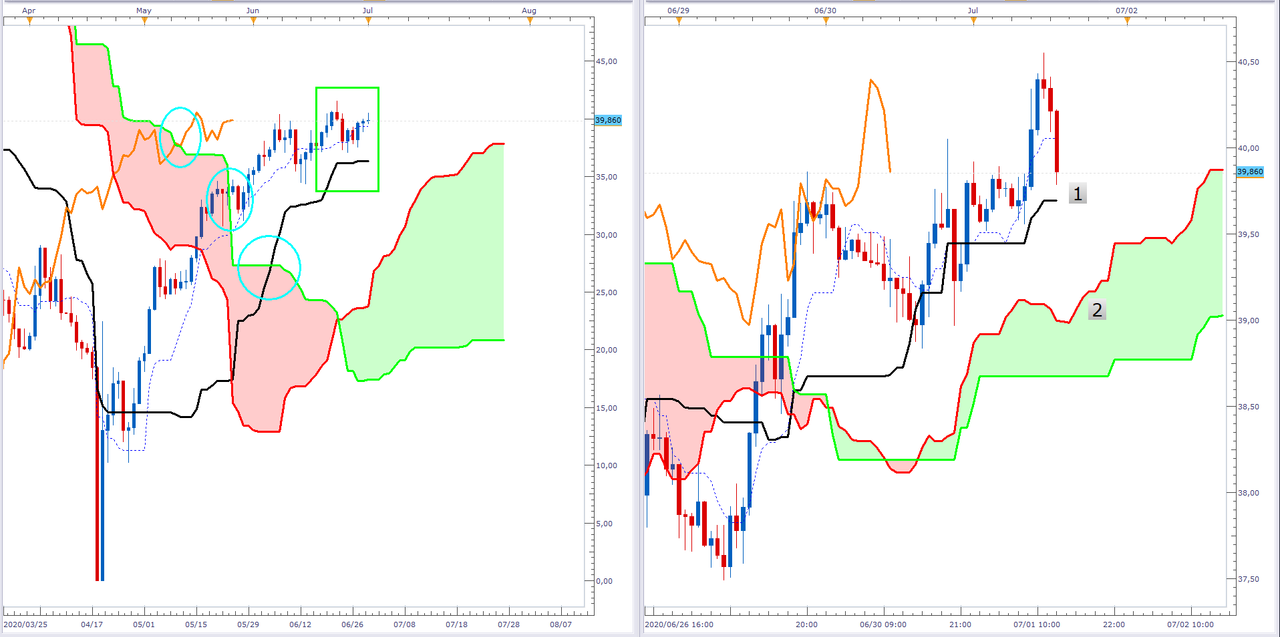 The above charts show refer to USOil, FXCM's proxy for WTI. The left chart is the daily ichimoku cloud chart. These are the salient features:
Price is above the cloud.
The orange lagging line is above the cloud.
The black base line is above the cloud.
Price is above the black base line (green rectangle).
The black base line is trending up.
The forward cloud is green representing bullish support.
The right chart is the hourly ichimoku cloud chart. Here, shorter term action is reflective of a pullback.
Price is dropping towards black base line support (1).
If price drops below and the base line remains flat, the price action may be a pullback in the larger bull trend.
If the black base line falters and moves down, we will watch the short term cloud for support (2).
If cloud support falters, we will be watching for further weakness and trend vulnerability.
If support holds we will look for a "buy the dip scenario" to possibly unfold.
Covid-19 Surge Poses Threat To Demand
USOil surged in excess of 80% in Q2. This is the biggest quarterly gain since the 140% of 1990 during the Gulf War. Moving into the second half a surge in Covid-19 cases may drive oil demand down once again. If this happens price will come under pressure. This may be exacerbated by politics as we get closer to the US Presidential elections in November. Thus, volatility is still a variable in the market.
Price and the Daily Base Line
We will pay particular attention to price and the black base line on the daily chart (green rectangle). If price falls below it and the base line begins to trend down, it will likely be due an increase in the fundamental risks posed by the resurgence in Covid-19. Then the possibility of a second wave and resulting lockdown may dominate the market in risk assessment.