Yesterday, the Fed delivered a surprise 50bps cut.
The index rose initially but then dropped to end the day down.
Rate Cutting Cycle as Opposed to Mid-Cycle Cut
After a very bland official G7 communication indicating that the G7 Finance Ministers and Central Bank Governors are closely monitoring the spread of COVID-19 and that they will intervene if necessary, the Fed delivered a surprise 50bps cut to the federal funds rate. It is likely that the idea was to surprise the market into a bounce and whilst this succeeded initially, the market ultimately ended the day down.
We do note that the Fed started the current cutting cycle on the 31 July 2019. The initial cut was meant to be a mid-cycle cut as opposed to a rate cutting cycle. Despite this rhetoric, there were a further 2 cuts in 2019, and now yesterday's 50 bps. This makes for a total of 125bps, which, we emphasize, is akin to a rate cutting cycle as opposed to the initial mid-cycle cut.
This makes for a very different fundamental make-up. 125bps in a low rate, low growth environment is an indication of fundamental weakness and there is a chance that this is how the market interprets current Fed's policy. If so, this may spook the market into selling into rallies as risk aversion dominates.
Technical Weakness; Watch Short-Term Resistance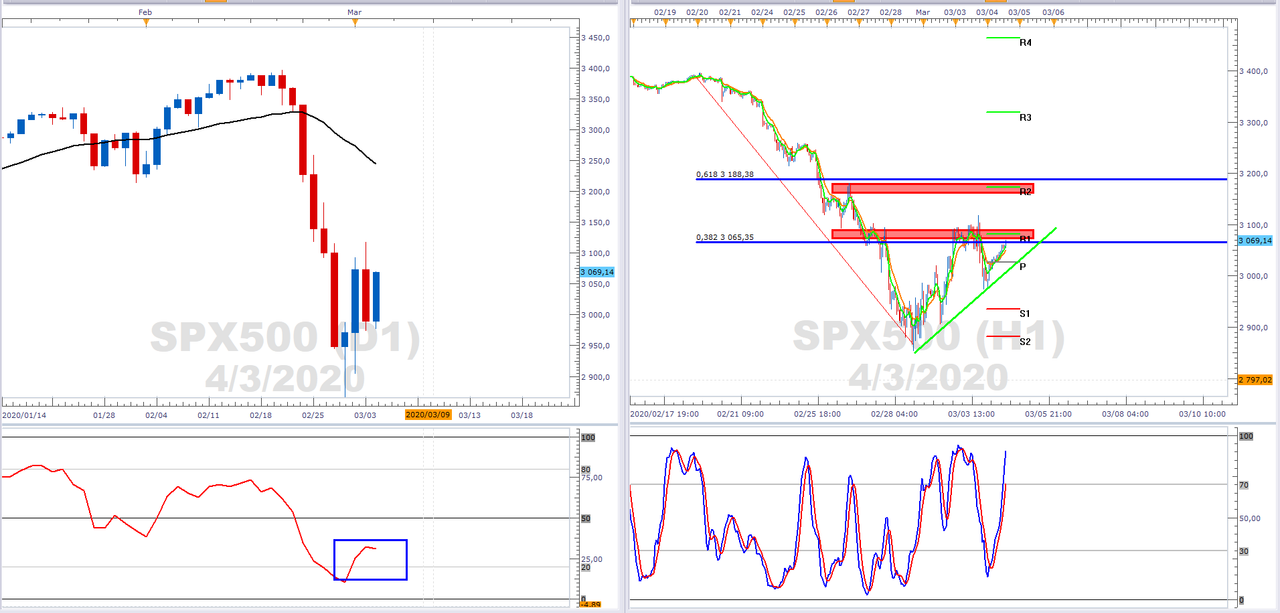 Given this, the right chart shows the SPX500 on a daily timeframe. The index is below its black 20-day SMA and the SMA is pointing down. Furthermore, the RSI is below 50. These are indicative of an underlying  bearish momentum. The right chart shows the SPX500's hourly chart. Here we see that the R1 pivot and the R2 pivot overlap with price resistance (red shaded horizontals). These levels may be targeted by the short sellers i.e. the Fed's cut's are a catalyst to market weakness. If the green 5-hour EMA crosses below the orange 10-hour EMA and the stochastic turns down, we will view these as bearish developments and potential precursors to further weakness.