The Daily View for S&P 500
Currently, SPX's price is up 13.6 (0.31%) from the day prior.
The daily chart shows that S&P 500 has seen 2 straight up days.
If you're a trend trader, consider that the strongest clear trend on the daily chart exists on the 50 day timeframe.
The moving averages on the daily timeframe suggest a choppiness in price, as the 20, 50, 100 and 200 are all in a mixed alignment — meaning the trend across timeframes is inconsistent, indicating a potential opportunity for rangebound traders.
Divergence between SPX's price and its RSI may be manifesting. As such, be on the lookout for trend reversal in SPX's price.
Below is a daily price chart of S&P 500.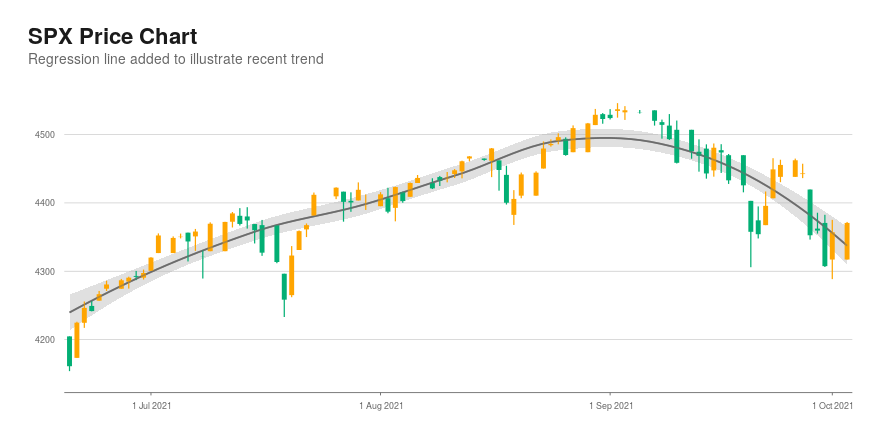 Featured S&P 500 Idea From TradingView
Below is a trading comment entitled Performance distribution of retail investors and hedge funds you may find interesting:
My thoughts about performance. This kind of info is not very available so I have to do some guesswork. We that spend all day in front of the computer expect to get better returns than 10% a year. But we have no idea what is possible and where we "rank" compared to others. All academics look at ever is day traders, yes 99% of day traders lose money and 1% earn peanuts while taking huge risk, we get it. And sometimes they look at passive investors. Cool. But no one ever says anything about active investors or Forex speculators, just that "on average active retail investors outperform", how wonderful, the average, yes I'd call myself the average normie definitely LOL! And regulators are even worse, all they care about is protecting dumb money and scaring people away from day trading. The french "market authority" on television was literally screaming "flee Forex it is dangerous, you should fleeeeeee!", I kid you not. First we look at retail investors. So the french "market authority" (AMF) looked at FX & CFD brokers representing about half of the individual FX & CFD investor population. 14799 persons in the 2009-2013 period.They found that over 4 years close to 90% of traders lost money. This is another of their deceptive tricks.It's just as with science these days, the data says something, the abstract says the opposite.So according to the extremely biased french AMF OWN DATA:- 30% of traders are in the "0" column, and according to their own data there aren't that many traders with tiny accounts, so ~30% breakeven.- They refuse to give any % result, some may be recalculated by overall we do not know, therefore I will assume it does not look as bad (or they'd show)- 5% of all investors make 2/3 of the losses, or at least half- 1% of all investors only are actually making significant returns (and 2/3 of the total)- As always day traders that destroy the stats are mixed with the rest- Most "winning" traders are barely above 0, making just a few hundreds to thousands a yearhttps://www.amf-france.org/fr/actualites-publications/publications/rapports-etudes-et-analyses/etude-des-resultats-des-investisseurs-particuliers-sur-le-trading-de-cfd-et-de-forex-en-franceFrom other sources and the AMF sort of confirms this, we know that:- Losers (especially big losers) that stick to investing, the ones that never give up never surrender in the face of adversity, the courageous ones with "heart", ye these guys, their losses get bigger and bigger actually.- Most winners continue to win and their profits get bigger.Here page 19, this is for stocks, we can see the net monthly market-adjusted returns of 62,439 households a large discount brokerage firm fromJanuary 1991 to December 1996:- On average, as they keep hammering us with, they underperform the market by 0.14% (each month!)- The average individual investor gross returns are slightly above the S&P 500 index returns (page 3)-…
— MrRenev