Silver 4 Hour Price Update
Updated March 05, 2021 01:58 AM GMT (09:58 PM EST)
Silver is down 0.18% ($0.05) since the previous 4 hours, marking the 2nd consecutive candle it has gone down. Out of the 5 instruments in the metals asset class, Silver ended up ranking 2nd for the four-hour candle in terms of price change relative to the previous 4 hours.
Silver Daily Price Recap
Silver came into today down 2.96% ($0.77) from the open of the day prior, marking the 2nd consecutive day it has gone down. Out of the 5 instruments in the metals asset class, Silver ended up ranking 3rd for the day in terms of price change relative to the day prior. Here is a daily price chart of Silver.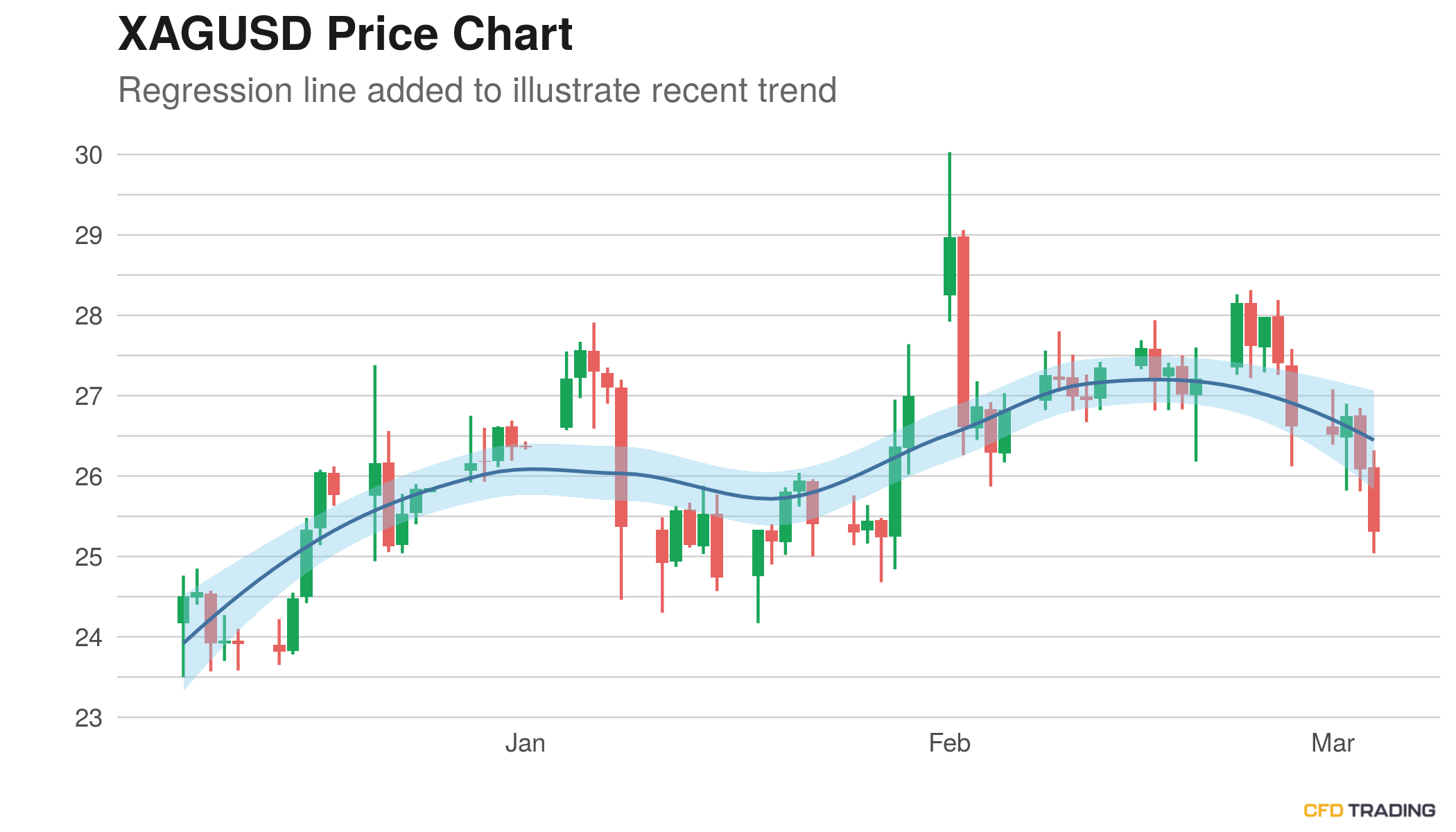 Silver Technical Analysis
First things first: Silver crossed below its 100 day moving average yesterday. Trend traders will want to observe that the strongest trend appears on the 14 day horizon; over that time period, price has been moving down. For additional context, note that price has gone down 6 out of the past 10 days.
Overheard on Twitter
Behold! Here are the top tweets related to Silver:
From ironmaker001:


@aboveawhisper1 @MH62010548 @TheOldManofthe3 I bought a boatload when the silver price went down to $12 last year. I am averaging up my friend and preparing for the end game when it all blows up. The financial market is broken, it is just a matter of time. Soon the US won't be able to cover debt interests with taxes. Broken

From pradeepk12345:


@PeterSchiff Stop this justification why gold and silver are not going up. Gold and silver are not going up because it's highly manipulated by banks. And this doesn't apply to bitcoin. Gold and silver price are falling because they are getting hammered by banks. That's it ..

From Weazel1st:


You could ask whether it should be better to accelerate the investigations concerning the manipulation of $silver by JPM first rather than try to outbuy them. They are the real problem, cause of their constant manipulation of paper silver contracts, suppressing #SILVER price!🧐😠
As for a news story related to Silver getting some buzz:
Orwellian CFTC, which ignored years of silver price manipulation, now going after Reddit Apes

On Monday 1 March, an article in Bloomberg Law by CFTC connected lawyers from law firm Clifford Chance revealed that the Commodity Futures Trading Commission (CFTC) is reportedly investigating retail silver trader activity in the silver price and that the US Department of Justice looks set to investigate as well….  And the 2008 – 2013 investigation was only one of a total of 3 CFTC investigations into the COMEX silver market since 2004, none of which found anything:   "And three times, starting in 2004, the Commodity Futures Trading Commission also looked into allegations of market manipulation of the silver market by JPMorgan." "The CFTC closed the third of those three inquiries in 2013 without taking action….As with GameStop, the retail interest in silver may derive at least in part from a desire to "punish" institutional traders who, the retail traders believe, are suppressing prices to benefit their short positions." As explained above, silver prices did not follow a pattern of GME and other stocks (presumably Clifford Chance is referring to stocks like AMC)…."in which retail buyers encouraged each other on Reddit and other websites" – Yes, it's called pointing out that the silver price is manipulated and suppressed by Wall Street and the LBMA banks and that buying physical silver will allow the market to break free of this paper manipulation….Clifford Chance continues: "Ultimately, however, the authorities may be more inclined to focus upon institutional traders who traded silver in a manner intended to influence prices, and in particular on traders who sold in order to defend lower prices against the increased retail buying interest…."The authorities may be particularly interested in determining whether institutional traders with long or short positions engaged in any misconduct." "Investigation of institutional shorts would likely focus on trading to "defend" lower prices'" Clifford Chance continues the deflection tactics by posing the possibility that both retail traders and institutional shorts have sincere beliefs, the retail side a sincere belief that silver prices have been suppressed by the bullion bank shorts, and the bullion bank shorts "selling aggressively to defend lower prices that they supposedly believe reflect silver's actual value".