On 23rd March the Fed announced a policy of unlimited QE.
The S&P 500 has rallied 28% since.
Technical resistance looms as Q1 reporting begins
On 23rd March the Federal Reserve announced that it would buy an unlimited amount of Treasury's and mortgage-backed securities to support the financial market. In addition several new lending programs amounting to $300bn to support companies during the shutdown were also announced. To this end, the Fed's balance sheet has grown in excess of $6tn. This is clearly seen in the Fed's total asset series below, which shows an unprecedented parabolic rise.

The Fed's liquidity injection has provided tremendous support for the market. It has appreciated by 28% off of the March lows: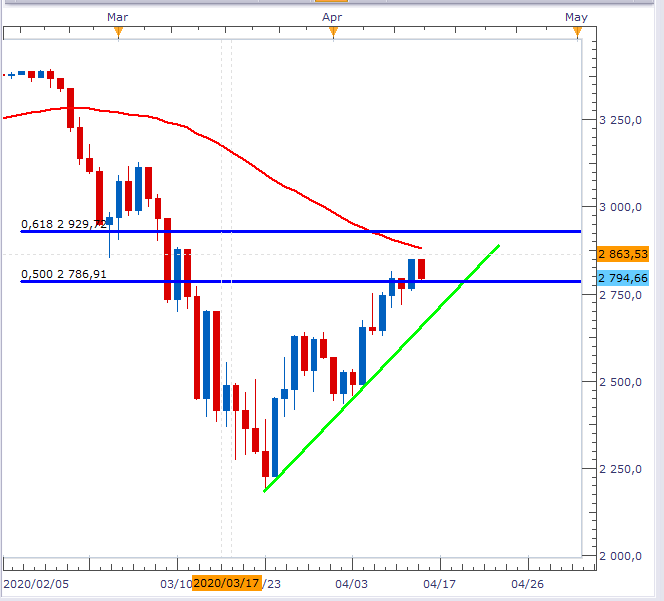 We note, that Q1 earnings season kicked off yesterday. JPMorgan's profit was well below analysts' expectations, reporting 78cps against the $1.84 estimate. The company also added a $6.8 billion loan loss provision – the biggest in a decade. I.e. the bank expects a surge in defaults across its lending business. Another bank, Wells Fargo reported a profit of just 1cps against expectations of 33cps. Wells has also built up a massive provision, noting a $3.1bn reserve fund. Q1 earnings will be lower than forecasts, which is likely to impact on future cash flows. These in turn values equities lower. The question is if this has already been discounted into current prices?
The second stage of a bear market has declining earnings and a lower peak followed by a lower trough. In the S&P 500 chart above, resistance is at the 50-61.8% Fibonacci levels, which overlaps with the red 50-day moving average. This is an area that short-sellers may target. In other words, if these levels hold and price drops below the green up-sloping trendline, the market may decline significantly.
Right now there is a "war of attrition." The market is deciding if "cash is king" going into Q1 earnings' season, with results reflecting the shutdown and economic damage cause by the Coronavirus epidemic; or if the Fed's QE is enough support to keep the markets functioning smoothly, with the aim for an effective transmission of monetary policy.