German fiscal stimulus has generally been slow due to the black zero policy.
However, facing the coronavirus, the authorities have acted swiftly.
Fiscal Measures
The German fiscal authorities have, over the last two weeks, announced a series of measures. These include guarantees, loans and stimulus. Examples include:
Application conditions to apply for short-term work schemes have been loosened.
Tax deferments to assist businesses have been announced.
Billions in the form of guarantees and subsidized loans through the KfW development bank.
An increase in investment spending by EUR3.1bn per annum from 2021 to 2024. 
Discussions around a EUR50bn fund for freelancers and small companies and a stabilization fund for companies with a volume of EUR600bn have been discussed.
The DAX has Stabilized But Technical Momentum Is Still down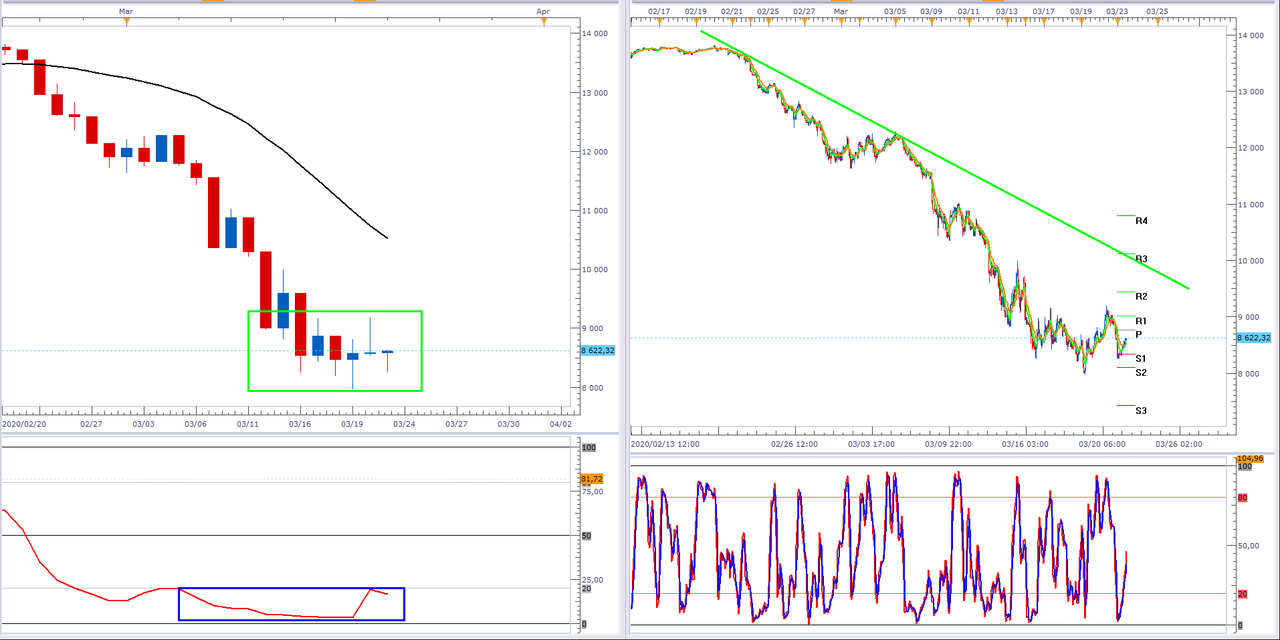 The left chart shows the daily time frame for the GER30. The index has stabilized over the last week or so (green rectangle). Nevertheless, it is below its black 20-day SMA and the SMA is pointing down. The RSI is oversold (blue rectangle) and will need to normalize at some stage. The right chart shows the hourly time frame. Of note is the down sloping green trend line. This defines the speed of the current downwards momentum. If the index retraces, it will still need to break above this trendline to indicate a change in the momentum of the current trajectory. Thus, the current stabilization from fiscal policy needs more buy-in from market participants or any bounce may be short-lived and used as an opportunity to exit positions at a higher price (or target by short sellers if restrictions do not apply).