In our last lesson we learned how different candlestick formations can tell us different things about whether the buyers or the sellers won out in a particular time period. In this lesson we are going to look at some of the basic candlestick patterns and what they mean when looked at in the context of recent price action in the market.
The Spinning Top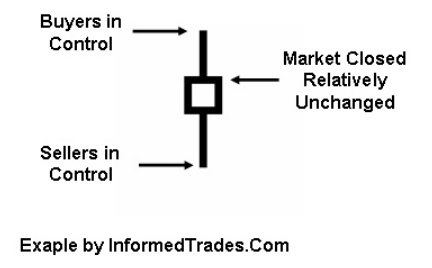 When a candlestick with a short body in the middle of two long wicks forms in the market this is indicative of a situation where neither the buyers nor the sellers have won for that time period as the market has closed relatively unchanged from where it opened. The upper and lower long wicks however tell us that both the buyers and the sellers had the upper hand at some point during the time period the candle represents. When you see this type of candlestick form after a run up or run down in the market it can be an indication of a pending reversal as the indecision in the market is representative of the buyers loosing momentum when this occurs after an uptrend and the sellers loosing momentum after a downtrend.
Spinning top After a Trend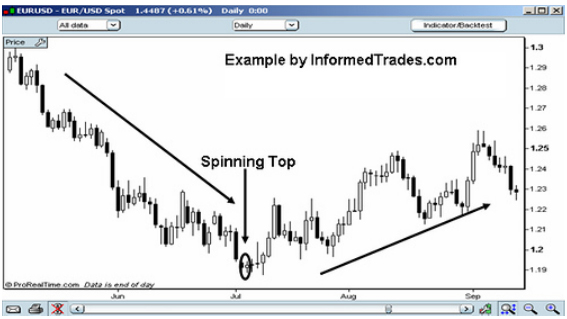 The Doji

Like the Spinning Top, the Doji represents indecision in the market but is normally considered a stronger signal because unlike the spinning top the open and the close that form the Doji candle are at the same level. If a Doji forms in sideways market action this is not significant as the sideways market action is already indicative of indecision in the market. If the Doji forms in an uptrend or downtrend this is normally seen as significant as this is a signal that the buyers are loosing conviction when formed in an uptrend and a signal that sellers are losing conviction if seen in a downtrend. Most traders will place greater significance on the Doji when it forms in a market that is in overbought or oversold territory.
Doji After a Trend