The Daily View for Copper
At the time of this writing, HG1's price is down $-0.18 (-3.73%) from the day prior.
This move is a reversal from the day prior, which saw price move up.
As for the trend on the daily timeframe, we see the clearest trend on the 50 day timeframe.
The moving averages on the daily timeframe suggest a choppiness in price, as the 20, 50, 100 and 200 are all in a mixed alignment — meaning the trend across timeframes is inconsistent, indicating a potential opportunity for rangebound traders.
Divergence between HG1's price and its RSI may be manifesting. As such, be on the lookout for trend reversal in HG1's price.
Below is a daily price chart of Copper.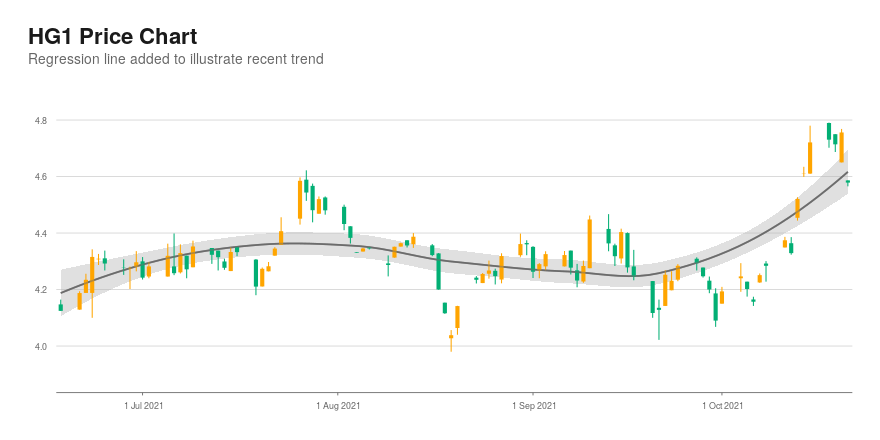 Featured Copper Idea From TradingView
Below is a trading comment entitled TSLA – The Porsche 996 / Next week's EPS Calendar you may find interesting:
A Boxster clone – Elon is enjoying Crude Oil on the 84.10 Handle as it's prior price Objective was 84.11 – it stopped at 84.01.88s…. on the way.TSLA zillionaires are clearly on the Hunt for Mo' Money.TSLA Traded its highs to highs extension perfectly.The question now is, will it Ballon and Bloviate Up, to 996.Thankfully only 5% of our Puts are in the trade for DEC, they are rather negativeat present. Now we'll need to adjust for $1000 – a Split Adjusted ATH at wellover $5,000.00.It's good to Elon, Thankfully Dr. Bury's nightmare ended. He must be wonderinghow on earth this happened. Us too, Michael, we as well.The Greatest Show on Earth continues, congrats to Tesla HODLers.Tesla added – $1 Trillion to its MARKET CAP – Tesla has been worth morethen all other Car Manufacturers on the Planet combined by a Wide Marginfor some time now.Protected Entity getting all the $ it needs.______________________________________________________________________EPS for Next Week:MondayTWOU2U IncTime Not Supplied-0.25–BGFVBig 5 Sporting Goods CorpTime Not Supplied1.13–AXTAAxalta Coating Systems LtdAfter Market Close0.34–AUBAtlantic Union Bankshares CorpBefore Market Open0.78–AMKRAmkor Technology IncAfter Market Close—ARIApollo Commercial Real Estate Finance IncAfter Market Close0.36–PKGPackaging Corp of AmericaAfter Market Close2.34–ACCAmerican Campus Communities IncAfter Market Close-0.1–AREAlexandria Real Estate Equities IncAfter Market Close0.62–AGNCAGNC Investment CorpAfter Market Close0.65–AJRDAerojet Rocketdyne Holdings IncTime Not Supplied0.47–AMGAffiliated Managers Group IncBefore Market Open3.91–AINAlbany International CorpAfter Market Close0.71–FFMHFirst Farmers and Merchants CorpBefore Market Open—ARLPAlliance Resource Partners LPBefore Market Open0.36–GABCGerman American Bancorp IncTime Not Supplied0.71–ADMPAdamis Pharmaceuticals CorpAfter Market Close—CATYCathay General BancorpAfter Market Close0.91–QSRRestaurant Brands International IncBefore Market Open0.91–WASHWashington Trust Bancorp IncAfter Market Close0.93–SFSTSouthern First Bancshares IncTime Not Supplied1.16–FMBMF & M Bank CorpBefore Market Open—RNDBRandolph Bancorp IncTime Not Supplied0.31–TYCBCalvin B Taylor Bankshares IncAfter Market Close—BOHBank of Hawaii CorpBefore Market Open1.33–CBNKCapital Bancorp IncAfter Market Close0.6–NWBINorthwest Bancshares IncTime Not Supplied0.22–TCBKTrico BancsharesBefore Market Open0.93–PWODPenns Woods Bancorp IncTime Not Supplied—BCLIBrainstorm Cell Therapeutics IncBefore Market Open-0.2–CLDBCortland BancorpTime Not Supplied—BXSBancorpsouth BankAfter Market Close0.65–HOPEHope Bancorp IncAfter Market Close0.42–BMRCBank of Marin BancorpBefore Market Open0.17–CCBGCapital City Bank Group IncBefore Market Open0.5–HBCPHome Bancorp IncBefore Market Open1.11–FBPFirst BancorpBefore Market Open0.3–IBTXIndependent Bank Group IncTAS1.3–FNWDFinward BancorpTime Not Supplied—RCKYRocky Brands IncAfter Market Close1.37–CFBKCF Bankshares IncTime Not Supplied0.36–WNEBWestern New England Bancorp IncTime Not Supplied0.22–FBNCFirst Bancorp (North Carolina)Time Not Supplied0.94–BDNBrandywine Realty TrustAfter Market Close0.02–BUSEFirst Busey CorpTime Not Supplied0.52–CBUCommunity Bank System IncBefore Market Open0.81–JBSSJohn B Sanfilippo & Son IncAfter Market Close1.39–FNRNFirst Northern Community BancorpAfter Market Close—NRIMNorthrim BanCorp IncTime Not Supplied1.44–BROBrown & Brown IncAfter Market Close0.53–RBBRBB BancorpAfter Market Close0.68–FMCBFarmers & Merchants BancorpAfter Market Close—OVBCOhio Valley Banc CorpTime Not Supplied—FBMSFirst Bancshares Inc (Mississippi)Time Not Supplied0.75–CPSSConsumer Portfolio Services IncTime Not Supplied0.18–PRKPark National CorpTime Not Supplied2.14–RRDRR Donnelley & Sons CoTime Not Supplied0.32–LKFNLakeland Financial CorpTAS0.93–GRCGorman-Rupp CoBefore Market Open0.34–CCBCoastal Financial Corp (EVERETT)Before Market Open0.41–CPSHCPS Technologies CorpAfter Market Close—SITCSite Centers CorpBefore Market Open0.04–MCRIMonarch Casino & Resort IncAfter Market Close0.99–OPOFOld Point Financial CorpAfter Market Close—FRAFFranklin Financial Services CorpAfter Market Close—SCCOSouthern Copper CorpAfter Market Close1.19–FEDUFour Seasons Education (Cayman) IncBefore Market Open—CMRECostamare IncTime Not Supplied0.69–WEEEFWestern Energy Services CorpAfter Market Close—SEBSeaboard CorpAfter Market Close—NEUNewMarket CorpAfter Market Close—GICGlobal Industrial CoAfter Market Close0.56–OTISOtis Worldwide CorpTime Not Supplied0.73–CCKCrown Holdings IncAfter Market Close1.97–CLSCelestica IncAfter Market Close—MKLMarkel CorpAfter Market Close11.84–HNIHNI CorpBefore Market Open0.43–KMBKimberly-Clark CorpBefore Market Open1.65–CRCrane CoAfter Market Close1.36–CADMFChemesis International IncTime Not Supplied—CALXCalix IncTAS0.28–PCHPotlatchdeltic CorpAfter Market Close0.92–SSDSimpson Manufacturing Co IncTAS1.77–SUISun Communities IncAfter Market Close1.01–CDNSCadence Design Systems IncAfter Market Close0.75–EFSCEnterprise Financial Services CorpAfter Market Close1–MEGEFMEG Energy CorpAfter Market Close—QNBCQNB CorpTime Not Supplied—MRBKMeridian CorpTime Not Supplied1.14–DORMDorman Products IncBefore Market Open1.22–DSSDSS IncTime Not Supplied-0.06–NETIEneti IncBefore Market Open0.56–PETSPetmed Express IncTAS0.34–KREFKKR Real Estate Finance Trust IncAfter Market Close0.48–FBFacebook IncAfter Market Close3.19–FLXSFlexsteel Industries IncAfter Market Close—FFNWFirst Financial Northwest IncBefore Market Open0.29–HTLFHeartland Financial USA IncAfter Market Close1.23–BENFranklin Resources IncBefore Market Open0.86–OIO-I Glass IncTuesdayMMM3M CoBefore Market Open2.2–MANHManhattan Associates IncAfter Market Close0.54–AMPAmeriprise Financial IncAfter Market Close5.48–AEMDAethlon Medical IncTime Not Supplied-0.15–AWIArmstrong World Industries IncBefore Market Open1.29–GOOGLAlphabet IncAfter Market Close23.48–ADMArcher-Daniels-Midland CoBefore Market Open0.89–ABGAsbury Automotive Group IncBefore Market Open6.25–ACUAcme United CorpTAS0.57–WRLDWorld Acceptance CorpBefore Market Open2.5–AVIDAvid Technology IncAfter Market Close0.25–JBLUJetBlue Airways CorpBefore Market Open-0.18–APAMArtisan Partners Asset Management IncAfter Market Close1.32–ARCCAres Capital CorpBefore Market Open0.44–ADBRFAldebaran Resources IncTime Not Supplied—AGYSAgilysys IncAfter Market Close0.19–AWREAware IncAfter Market Close-0.1–LLYEli Lilly and CoBefore Market Open1.98–CRSPCrispr Therapeutics AGTime Not Supplied-1.76–APYRFAllied Properties Real Estate Investment TrustAfter Market Close—AKRAcadia Realty TrustAfter Market Close0.01–AGRAvangrid IncAfter Market Close0.29–AANAaron's Company IncBefore Market Open0.57–ACCOACCO Brands CorpAfter Market Close0.35–AATAmerican Assets Trust IncAfter Market Close0.17–AMDAdvanced Micro Devices IncAfter Market Close0.67–ACNBACNB CorpBefore Market Open—AHTAshford Hospitality Trust IncAfter Market Close-1.76–ALGAlamo Group IncTime Not Supplied2.05–AUDCAudioCodes LtdBefore Market Open0.38–SAVESpirit Airlines IncTime Not Supplied-0.96–ARCHArch Resources IncBefore Market Open5.77–MBINMerchants BancorpTime Not Supplied1.47–BYDBoyd Gaming CorpAfter Market Close1.25–IBCPIndependent Bank Corp (Michigan)Before Market Open0.62–SYBTStock Yards Bancorp IncBefore Market Open0.76–TPBTurning Point Brands IncTime Not Supplied0.7–BXPBoston Properties IncAfter Market Close0.62–FBHSFortune Brands Home & Security IncAfter Market Close1.39–FDBCFidelity D&D Bancorp IncTime Not Supplied—ESSAESSA Bancorp IncAfter Market Close0.38–BFINBankFinancial CorpTime Not Supplied0.12–FNWBFirst Northwest BancorpTime Not Supplied0.25–NBTBNBT Bancorp IncAfter Market Close0.8–LBCLuther Burbank CorpAfter Market Close0.4–SBSISouthside Bancshares IncBefore Market Open0.65–FIBKFirst Interstate BancSystem IncAfter Market Close0.74–NFBKNorthfield Bancorp IncAfter Market Close0.3–LBAILakeland Bancorp IncBefore Market Open0.44–PEBOPeoples Bancorp IncBefore Market Open0.26–FMNBFarmers National Banc CorpBefore Market Open0.51–BWFGBankwell Financial Group IncTime Not Supplied0.82–FRBAFIRST BANK (Hamilton)After Market Close0.42–UMBFUMB Financial CorpAfter Market Close1.8–MASIMasimo CorpAfter Market Close0.91–FRMEFirst Merchants CorpBefore Market Open0.91–CNCCentene CorpBefore Market Open1.25–CFPZFCanfor CorpAfter Market Close—THFFFirst Financial CorpTime Not Supplied1.17–RYIRyerson Holding CorpAfter Market Close1.75–CACCamden National CorpTime Not Supplied1.03–GEGeneral Electric CoBefore Market Open0.43–LMTLockheed Martin CorpBefore Market Open1.97–RRCRange Resources CorpAfter Market Close0.53–CBChubb LtdAfter Market Close2.25–DALNDallasnews CorpBefore Market Open—COFSCho…
— HK_L61