The Daily View for CAC 40
500 – Internal server error
CAC 40 has seen its price go down 29 out of the past 30 days, thus creating some compelling opportunities for bears.
If you're a trader with a preference for rangebound markets, you may wish to note that there isn't a clear trend on the 20, 50 and 100 day timeframes.
Most noteworthy in the world of moving averages on the daily chart is that the 20 and 50 day moving averages have been crossed, with price now being below them. The moving averages on the daily timeframe suggest a bearishness in price, as the 20, 50, 100 and 200 are all in a bearish alignment — meaning the shorter duration moving averages are below the longer duration averages, implying a stable downward trend.
Divergence between CAC's price and its RSI may be manifesting. As such, be on the lookout for trend reversal in CAC's price.
Below is a daily price chart of CAC 40.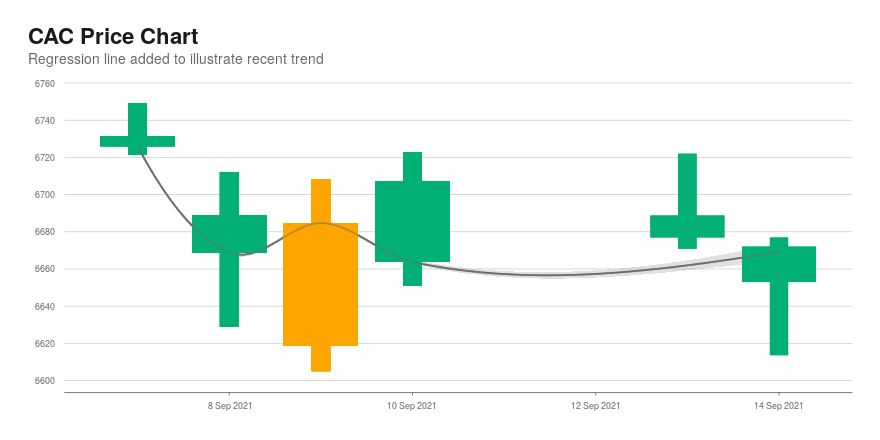 Featured CAC 40 Idea From TradingView
Below is a trading comment entitled Markets news n°36 you may find interesting:
> George Soros says Xi Jinping is ruining the economy and predicts investors in China are in for a rude awakening*********************** The billionaire said: "Xi Jinping's crackdown on private enterprise has been a significant drag on the economy. International investors are in for a rude awakening.". He also said "I consider Xi Jinping the most dangerous enemy of open societies in the world.". Of course the chinese answered, and this is more pointless drama than anything, they called him a "global economic terrorist". I think the Malaysian PM had words a big more crude, a jew conspiracy was mentionned, I bet the chinese would love to make racist comments. When this country falls apart and they start getting nervous the conspiracies and antisemitism and blaming "the bankers and speculators" are sure to come back.Blackrock, which is basically a mindless company that never had an exceptional performance but manages a whole lot of money, got on the hype train of "China next superpower" bla bla bla, totally missing the reasons as to why they grew so much. The reasons are pretty obvious: demographics – which are really getting bad now – and they came from very low! Their historical GDP share has been around 20-35% and a few decades ago it was down to 1%! So of course when their society sort of goes "back to normal" the grow will be gigantic, to go to their historical average it would take a 30X. Going up strong and fast doesn't mean they'll continue past their "normal" share of world GDP. Soros called Blackrock decision to invest in the chinese hype a "tragic mistake", and blackrock responded by whining and saying something along the lines of "stop spreading FUD". > Another day trading "magic system just be disciplined" vendor goes to jail, another crypto ponzi crook gets charged*********************** Another day, another day trader bites the dust. Just like in the mid 80s and late 90s "day traders" are back, giving us life lessons. I'd say it started since last year with the whole Dave Portnoy thing. They're all coming out of the woodwork letting us know how they're all "part of the 1%" and "you just need to be disciplined" or some crap. Well, crooks are taking advantage of it again, and this summer a crook called Leonard J. Cipolla got a 10 years jail sentence handed to him for selling a "secret trading system" that would "virtually guaranteed a gain of 10-30% per month". He used his winning account statements for a period of 2 years to draw suckers in "here is the proof". A few months or years ago I remember proving that a typical day trading macd strategy was equivalent – but inferior – to taking a single position on the market for a few months, it "works" when it's trending, but not too strong (or you never get signals). I think they have no clue their strategies are something like taking a long position on volatility, or even a long on the market period. People don't understand this are just ignorant. Then they go "well market conditions change". It's just so stupid.https://www.tradingview.com/x/MMM1pNpf/https://www.tradingview.com/x/hMMz2gVo/https://www.tradingview.com/x/WQt4ef97/https://www.tradingview.com/x/5e53dZ0T/https://www.tradingview.com/x/66D9XK7A/The list of people that were excited and absolutely persuaded they'd make millions and I'm waiting to get back to me or get back to a forum is too long for me to remember. The list of people that did get back to me is very easy: it's empty. How do these guys become so sure that's it they are the wonderboy they'll become a multi-millionaire? There is a guy I managed to get my hands on, in the league of legends client, he said something like "Oh well I am taking a break". These guys swear on their grandmothers "I will let you know how it went", and then when they fail as expected they are so ashamed and disappointed, even depressed, you don't hear a word.I had coworkers at a bank get all euphoric about crypto and picturing themselves in fast cars, talking about it ALL THE TIME, every single day. A guy that kept bothering me each time BTC was going down was mysteriously away for several months (mental breakdown) when it dropped below 6000. When he came back he NEVER mentionned crypto. Not once. Which brings me to the other crook, and this is a pleasure, nearly as great as seeing day traders break their teeth: Bitconnect founder has been charged with fraud a few days ago. They got him boys. They always do. I'm sure they'll even find the "crypto queen" that disappeared.I feel we will soon (next 2 years I guess) hear plenty of "Lehman" stories, and rogue day traders. Remember the day/swing trading guy that was deported to Ghana after losing 2 billions? He also lost all of his personal money with 2 CFD brokers gambling it all away. "How do the pros make money". Simple, they don't. I hope we get plenty of rogue gambler blow up stories.The 10 years jail day trader official document, these stories are exquisite, I can never get enough:https://www.justice.gov/usao-edva/pr/man-sentenced-prison-7-million-options-trading-scheme > France is getting violent. Far right groups assault far left anti-pass groups with sticks, and everyone assaults police*********************** And here is the violence. Revolution vibes. The government will keep pushing them against a wall, as they said "make their lives as miserable as possible" (genius), give them "no choice", make sure they have nothing to lose. It's so stupid… Unbelievable. Wow what could go wrong? So now the government is surprised at the violence, and even the die hard "system" journalists are jumping off the ship. Even Patrick…
— MrRenev