Market participants still remain fearful.
Bounces or pauses may be exploited by short-sellers looking for lower risk entries.
US Markets Still Waiting For Workable Fiscal Response to Coronavirus
Markets never move in a straight line. During the market crashes of 1929, 1987 and 2008 rallies did enormous amounts of damage as investors were sucked in, believing the worst was behind them. However, the emotion of fear is still dominant as the US wrestles with appropriate fiscal responses to the coronavirus. President Trump wants a payroll tax holiday to help lessen the burden on households to run through to November. However, this lacks support from Democrats and even struggled to get endorsed by Republicans, seemingly lacking in detail. 
Moreover, the price war between Saudi Arabia and Russia in the oil markets is also causing turmoil. US shale producers are now operating close to or below breakeven and may curb dividends. It is also worth noting that US banks are exposed to the energy sector via loans and if defaults increase there is a risk of contagion.
Daily Downtrend Has Charted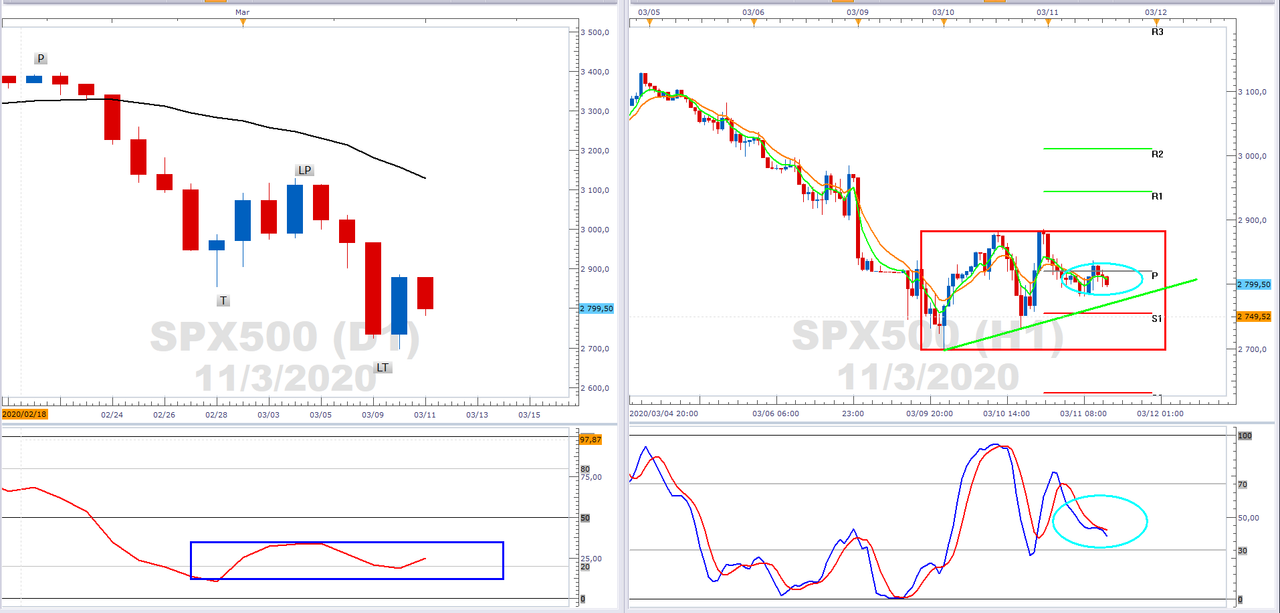 The left chart shows the daily time of the SPX500. It has charted a lower peak (LP) followed by a lower trough (LT). This is the classical charting definition of a downtrend. We also see that price is below its black 20-day SMA and that the SMA is pointing down, which highlights a downwards momentum. This is mirrored by the RSI, which is on the bearish side of 50 (blue rectangle).
The right chart shows the hourly time of the SPX500. After the recent damaging decline to the index, it is now consolidating sideways (small red rectangle). Smaller patterns tend to be of the continuation variety and the green 5-hour EMA is looking to cross below the orange 10-hour EMA (top aqua ellipse), which would be bearish. This, after the stochastic has already crossed and turned down (bottom aqua ellipse). If price declines and breaks through the green upward sloping trend line it may very well signal that short sellers have come back into the market, having waited for an appropriate lower risk entry.